I woke up this morning, got in my car and found a 4 as the first number on the thermostat! Sure, it was 49 degrees but still…it was like a bell toll announcing the impending arrival of fall.
Marilyn, the fabulous lady behind The Artsy Girl Connection, is hosting a Fall Crawl to get us all in the mood for fall!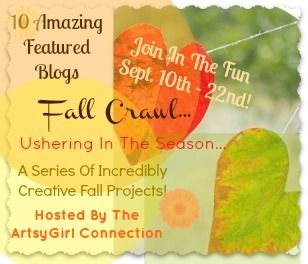 From now through the 22nd of September, a different blogger will feature a new fall related item each day! I'm so thrilled to be part of the crawl with such an amazing group of ladies!
Check some of the stuff already shared:

Be sure to visit The Artsy Girl Connection each day to see the newest fall project linked up! {Oh, she is even hosting a link party for YOU to link up too!}