This afternoon, Kaysi from Keeping It Simple is here to share a great Valentine's Day project. I am a HUGE fan of Keeping It Simple. It is usually my go-to blog for anything Silhouette related!
**********************************************
You can find lots of different kinds of crafts at my blog, home decor, sewing, refashions and more.  One thing they have in common, they are very easy and simple!  Anyone can make the crafts that I make!
This is how I made it:
1) I took a straw wreath, conversation hearts and electrical tape.
2) I wrapped the tape all around the wreath
3) Then I used hot glue and glued the hearts onto the wreath
4) I alternated the hearts each row
Here's the whole thing covered.  It took three bags (from the dollar store)
5) To protect the candy from the weather, I used a acrylic glaze
6) I sprayed two layers of the glaze onto the hearts.
7) I added some ribbon and hung it on my door
And just like that, I have a fun Valentine's Day wreath!
Here's a close up…. no more "call me" hearts now they say "text me".  Ha!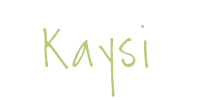 ***********************************************************
Thanks so much for sharing your great wreath, Kaysi!  The electrical tape tip is a great one too.  Love the finished product.  Be sure to stop by Keeping It Simple and visit Kaysi to see the other great projects she has to share.
Do you guys have some Valentine's Day project you've been working on?  If so, be sure to come share them over at my Valentine's Day Linky Party.