This is a Sponsored post written by me on behalf of Arm & Hammer Truly Radiant for SocialSpark. All opinions are 100% mine.
Around here, we are always trying out recipes for new foods or drinks. I love creating new recipes that my family loves and that taste delicious too. We all know that what we eat and drink impacts our lives but I often forget how it impacts things like my teeth!
There are a few items that have the biggest impact on teeth when it comes to food and drinks. Five big culprits are
Many of those items are things you just can't escape in cooking. Plus, they taste so good! So, I decided to try and find ways to help reduce the impact those foods and drinks have on how radiant my teeth look.
A good whitening tooth paste. I really like Truly Radiant. The toothpaste is great for cleaning, strengthening and whitening for a more radiant smile. Plus, it is the only paste with baking soda, peroxide and active calcium.
Drink with a straw! I know most people aren't up for drinking wine with a straw but, when drinking tea or soda, consider using a straw to keep the liquid away from the visible front surfaces of your teeth.
Use an electronic toothbrush. Something like the Arm & Hammer Truly Radiant Spinbrush removes 100% more plaque than a manual toothbrush.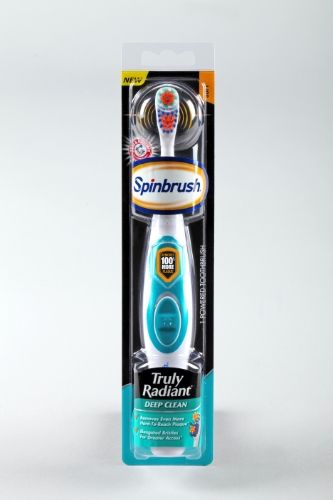 Add a whitening booster to your brushing routine. This product is clinically proven to whiten teeth in just one week!

Eat foods that help prevent tooth stains like apples, carrots, celery and cauliflower! scrub your teeth gently while you chew them. They also help you make saliva, which counteracts acid and cleans your mouth.
Creating recipes and try delicious foods is one of the ways I like to bring out my inner radiance since it is a huge passion of mine. You can get other tips to bring out your inner radiance from Alison Sweeney!